The only 6 Letters you need to read about today… AMG GT-S
German cars are generally engineered very well and can be quite fast and fun to drive, but the overwhelming majority of them desperately look like they want to be a train or a fist. Once in a blue moon a German car is sorta neat-looking — BMW M1 for instance — but pretty? The way a Ferrari or a Jaguar or a Corvette can be pretty? No way. They are industrial, purposeful, heavily muscled. But light, lithe, and lissome? Absolutely not. It's quite safe for me to say, then, that the Mercedes-AMG GT S is the prettiest German car since the BMW 507. No, the GT isn't the most original design of all time, nor does it have to be. Yes, it can described as the offspring of a Porsche 928 and a Jaguar E-Type. But pretty doesn't have to be original. Pretty only has to be pretty. Hats off to Gorden Wagener, head honcho of Mercedes design, for pulling off an all-timer.
The AMG's interior is also a thing of beauty. Saddle-looking leather and big, polished aluminum bits, and while I'm normally not a fan of carbon-fiber interior trim, at least here such things feel authentic. Starting with the W222 S-Class, Mercedes interior design has been peaking on a very high plateau. The GT continues that lovely trend. There's also space. The AMG GT rides on a cut down SLS "Gullwing" chassis. Cut down as in length, not width. As such, the cabin feels airy and light, not confining or cramped. You have room to work. That's a very good and important characteristic, because you will want to drive the tires off this thing's wheels. Best to do so in some modicum of comfort, no? Speaking of that, the slim but well-padded seats are wonderful, even on 1,500-mile road trips. Ask me how I know.
Our technical director, Frank Markus, covered the mechanical and electronic aspects of the GT S exhaustively in his First Drive review. I just want to highlight a few key pieces of information to get us through this First Test. The new 4.0-liter, twin-turbo V-8 (code: M178) produces 503 horsepower and 479 lb-ft of torque in S guise. The standard GT makes a bit less: 456 hp and 443 lb-ft. Curiously, the exact same engine in the C63 AMG S also makes 503 hp, but 516 lb-ft of twisting force. The engine's output is routed through a carbon-fiber torque tube to the same seven-speed dual-clutch transaxle that came in the SLS. Only it's been reprogrammed for faster shifts. AWD is not an option, and never will be.
But you don't buy the AMG GT S for the numbers. You buy it because it eats up a road like nobody's business. Case in point: I found myself on a particularly deserted California byway north of Yosemite called Route 49. A dream of a road, constantly undulating, rising, falling, and devoid of dreaded other cars. On the wide center stack there's the usual AMG performance rotary dial for Comfort, Sport, and Sport Plus, with an added selection: Race mode. I can't recommend Race mode highly enough. I suppose it turns the throttle, transmission, adjustable dampers, and driving nannies into their most gritty selves, but the overall effect is to transform a big cruiser of a luxury coupe into an angry missile. Once again, vote Race mode.
On the power, crack the wheel, feel a welcome bit of lean, brush the brakes, go for more power, slide the rear, countersteer, more power, more power, and smile, smile, smile! The steering is revelatory. Direct, connected, linear, with plenty of feedback and perfectly weighted. The chassis is poised and balanced, while the engine — despite having two sound-sapping turbochargers — is like an angry scream. I drove hard, I braked deep, I marveled at the grip from the staggered (265/35R19 front, 295/30R20 rear) Michelin Pilot Sport Cup 2 tires, all the while laughing to myself at what an inspired beast of a sports car this AMG is. Then I slowed down, because unlike the GT S, I'm only human.
Then I looked in my rearview mirror. There was a guy on a motorcycle. I know nothing about bikes, so I can't say what kind, but he was dressed up like a Moto GP racer, though wearing a dirt bike helmet. I also noticed that through tight turns, he was placing his knees on the ground. I rolled down my window and waved him by. I already had my fun. Why impede his? As he blew by me, I rethought things. What the hell else am I gonna do? Go pedal down, I'm going to keep up with him. For the next 15 minutes we didn't see another soul. I was at the limits of my meager on-road abilities, and I'll assume he was also driving about as hard as he could. He'd pull a few car lengths on the AMG through straights, but we'd catch right back up in the corners, something inconceivable in the GT S' predecessor. It was madness, and about as close to driving nirvana as I've achieved recently. Truly one of my life's memorable drives. On and on we went, until finally, as we came upon a small town deep in Calaveras County, he pulled off to the right, gently going up onto just his front tire, one hand extended in a thumbs-up salute. I flashed the same sign at him and sped north, even happier than I had been a quarter of an hour earlier. Wow.
This next part I've been dreaming of saying publicly for months: The AMG GT S is rock-solid at 190 mph. Mercedes invited me on an early ride-along of a GT S mule. The man driving me around was none other than Tobias Moers, the head of AMG. We were in Park City, Utah, and while the cars were covered with obnoxious green and black tiger stripe camouflage, they were just about production. Call 'em early builds. I believe the idea was that I would just be a passenger, and Tobias would do all the driving. But — and this has been said before — Tobias is a breath of fresh air in the car world. As soon as we were away from our mutual minders, he pulled over and put me in the driver's seat. I didn't write about the trip because, well, I wasn't going to pretend I didn't do something I did. All of what I wrote above about the GT S' handling was as true with the mule.
Before long we arrived at the world-famous Bonneville Salt Flats and were gazing at a dry, seemingly endless ocean. An east-west course had been laid out, and without saying too much (that's how Tobias rolls) we switched seats again and headed out toward Wendover, Nevada. Tobias, being German, kept the throttle pinned until he yelled out, "300 kilometers per hour!" I wasn't sure what that meant at the time, but an app on my phone told me that's equal to 186.4 mph. Not bad. We switched seats again, this time with me pointed east.
Driving on salt is weird. You lose all perspective. Mercedes set orange cones up as distance markers at every mile, and those are essentially all you have to gauge where you're headed. My best advice? Relax, and pray to the tire gods. I started slow, rolling on the power. Even under partial throttle, below about 40 mph, the car fishtailed somewhat, scrambling for purchase. Once it hooked up, I gradually buried my right foot, pushing past the kick-down point, and simply held everything very still. The cones, which came up slowly at first, start coming much quicker as my velocity increased. At 180 miles per hour, the cones came into view every 20 seconds. Before we started, I'd set the digital display to mph. I hit 186 mph and kept going. Then I backed out, shouting at Tobias, "190 miles per hour!" He flashed me a raised eyebrow and a little smile. He informed me he'd go again — hey, it's literally his car — and cracked 195 mph. When I asked if I could have a second shot so I could try to beat him, he flashed me his sardonic grin and said, "You're not allowed to drive this car."
From Motor Trend- July 16th,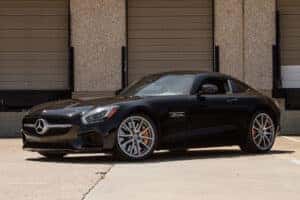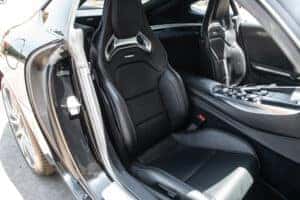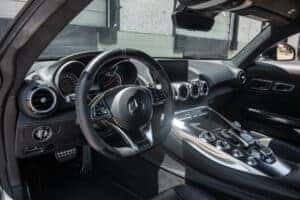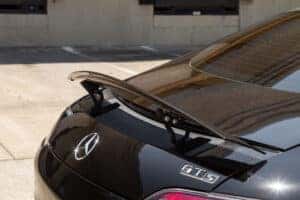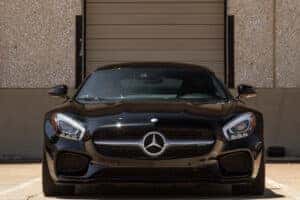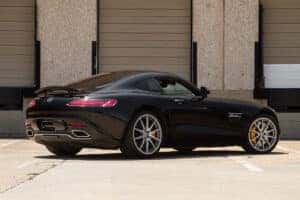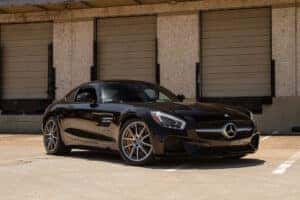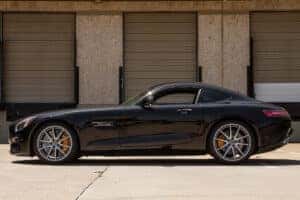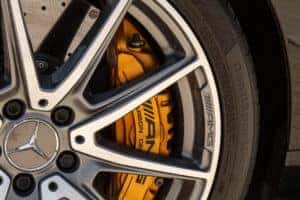 2016